"Meet the Makers" is one of our favorite features from our factory partners – Old Dominion Furniture Company. This time we meet Charlie, who has been with Old Dominion Furniture Company for 31 years! In our opinion, it says a lot about a company, when you have veterans like Charlie around. Read on below and see how Charlie has been perfecting assembly, piece by piece!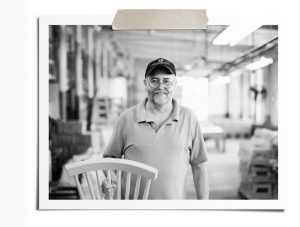 Originally from West Virginia, Charlie has a background in construction. Applying and interviewing for a position in 1990, he was hired on the spot! His first job was in the finishing department, spraying and finishing high chair and chair frames. With quick hands and an eye for detail, he quickly moved from Finishing to Assembly, where he has continually honed his skill and now leads the team responsible for building all the chairs, barstools and child seating.
Charlie's dedication and commitment stems from a love of his hands-on role. He feels that this position, perfecting assembly piece by piece, is "what he was destined to do," partly because he actively builds and works with his hands every day. Another part of what makes the job special for Charlie is the people. He is a true team player, and his upbeat, friendly personality makes him great to work with and for.
Old Dominion Furniture Company owner John says of Charlie: "Charlie is immensely loyal and, after 31 years, embodies what we mean when we say Old Dominion Family!"