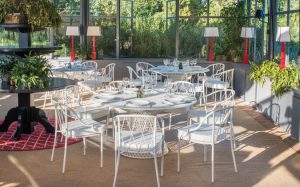 This is the best time of year to prepare your business for patio season! The Como Collection by emuamericas is here to help!
This week, we are happy to shine the spotlight on another new collection by emuamericas! Designed by Angeletti-Ruzza Design, the Como Collection by emuamericas is a reinterpretation of an Italian Classic. By giving the collection a contemporary look, it easily fits into any setting, regardless of it's architectural style.
The practical proportions of the steel tube frame combined with a decorative motived back, create a refined appearance, which is timeless and versatile!
With this collection, the possibilities are endless, as it consists of a chair and an armchair, an armchair with a high backrest, as well as a lounge chair and loveseat. Completing the collection are two round tables with an intricate interwoven base and metal tops!
Want to know more about patio furniture and shade options? Then keep your eyes peeled, as we feature other exciting options for your outdoor space in the weeks to come!
.