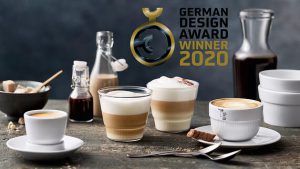 This week we are thrilled to highlight the Coffee Tasting Collection by BauscherHepp! Have you ever heard of the German Design Award? No? Well – each year an international jury reviews the most innovative and groundbreaking designs and then selects the winners of the German Design Award. This year, the prestigious award for Excellent Product Design in Tabletop went to the Coffee Tasting Collection by BauscherHepp.
The National Coffee Association conducts an annual survey on America's coffee-drinking habits. For 2019, 63% of respondents said they had consumed a coffee beverage the previous day. This response is consistent with previous years' findings. However, when you dig a littler deeper, you find that consumers  who enjoyed a "gourmet" or "specialty" coffee equals 61%. That is quite surprising and also marks the first time, gourmet coffee has crossed the 60% threshold. In just 2015, it was only 48%.
With this trend in mind, industrial designer Carsten Gollnick created the Coffee Tasting collection as a true fusion of form and function. Each piece in this collection is designed to enhance the enjoyment of coffee in all it's forms. So, whether you prefer a Vietnamese or Bulletproof coffee, there's a shape designed for every type! Additionally, the especially deep saucers can even be used as dishes for tasty snacks or desserts!
Unique Features
Coffee Tasting is truly deserving of this award, with a host of unique features that create the best coffee experience:
The sheer rim has an excellent mouthfeel.
A ribbed texture not only hearkens back to the texture of a coffee sleeve, it also provides a better grip.
Clear glasses showcase careful layered compositions with milk and coffee.
We think seeing is believing, so check out this video to see why there's so much to love about Coffee Tasting.
If you want to read more about the Coffee Tasting Collection or see the original post, please check out the BauscherHepp Deep Plate Blog!