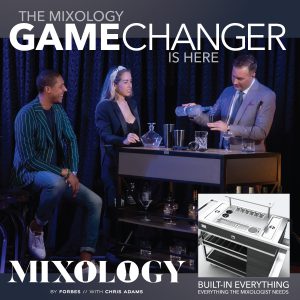 Forbes Industries has partnered with mixology expert, Chris Adams, to design a series of mobile mixology carts perfect for today's restaurants, catering, food & beverage, and hotel events. This partnership resulted in the game changing Mixology Carts by Forbes with Chris Adams!
Early in his career, Chris Adams was trained by a Master Bartender. Under this tutelage, Chris learned to be technically sound in the art and chemistry of Mixology. Further, he gained an understanding of the intangible feelings guests have, as a connection with each drink. BUT, having in depth knowledge of all the elements being used, was only part of the equation. The stories and history behind those elements and pairings, gave him the foundation needed to maximize his skills.
The only missing piece was having a method to deliver these experiences to guests. Chris and the Forbes Design Team collaborated to create several design concepts resulting in a unique line of Mixology Carts. Specifically designed to enhance the presentation of the Mixologist, their tools and ingredients, the Mixology Carts are simple and yet practical.
So, what are the benefits of these Mixology Carts?
Built-In Everything: Designed with functionality in mind, the top tier models of Mixology Carts are available with all the bells and whistles. This could include adjustable gallery rails, extending speed rails, built in garnish and drip trays, storage for liquor, mixology tools, crushed and large format ice, a glass rinser and so much more!
Three Top Configuration Options: Depending on your needs, Forbes offers three configuration options for the top.
Customizable Cold Storage: Designed for the experienced user, the insulated Mixology Carts accepts standard size food pans. This allows for the Mixologist to organize their ingredients. If items need to stay cold and not wet, it separates them from the ice. Within easy reach, you can store larger pans for ice, which make for easy swap out during sevice.
Multiple Price Points: To ensure you get the Mixology Cart you desire, e

ach design is available at multiple price points

.
Boosted Social Media Presence: Mixology Carts are sure to create special one of a kind, post-worthy moments!