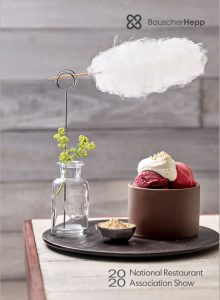 Did you know that the opening day for the National Restaurant Association Show in Chicago would have taken place this past weekend? Due to obvious reasons that didn't happen this year, but our factory partners from BauscherHepp didn't want you to miss out. So they have created a mini catalog, which highlights some of the collections that BauscherHepp would have introduced at the NRA show.
We are thrilled to share the catalog with you! It includes new vintage-inspired glasses from Luigi Bormioli. Asymmetrical bone white china from Bauscher. Versatile stoneware from Playground that serves a dual purpose. You can view the BauscherHepp NRA Show Collection here.
Bauscher Hepp will send out more of these mini catalogs, as they launch even more new products, and we will of course share them with you.
In the meantime – please stay safe and healthy and we look forward to seeing all of you in Chicago next year for the National Restaurant Association Show!
And, if you need any help to get you through this crisis, BauscherHepp is continuously updating their Covid-19 resource page. It is a page that contains a list of national and regional resources, aid and ways everyone can continue to help. You can find out more by clicking on this link!