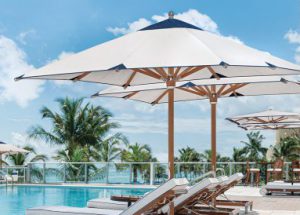 The innovative design of the new Ocean Master Max Nautical Teak umbrella by TUUCI draws inspiration from classic and modern sailing architecture and details! With it's one-of-a-kind features, the Ocean Master Max Nautical Teak umbrella sets a new standard for teak umbrellas. Read on to learn more!
The unique reinforced mast, sports an aluminum spine; which adds strength to the umbrella! Further, it also allows the integration of an internal telescoping crank lift system. This is something never before achieved in a teak umbrella.
The Ocean Master Max Nautical Teak umbrella features responsibly harvested and expertly cured teak of the highest grade.
Teak will gracefully develop a gray patina over the long life of the product. Additionally, teak has the necessary oils to protect from dry rot and splintering, which is key in any outdoor environment. (No one wants splinters, when they sit down 😉)
TUUCi sources the natural teak for each umbrella, and uses it throughout the hubs, ribs and struts. Combined with polished metal elements the teak adds an elegance to this new umbrella, while also giving a nod to TUUCI's aluminum roots.
INSPIRED DETAILS
The Aluma-CORE mast enables TUUCI's proprietary gear system and telescoping mast. Further, the mast features a crank, which provides an easy open to close, and the telescoping elements allow for unobstructed closure over the furniture below. This innovative core reflects in external chassis reinforcements clad in polished yachting grade 316 stainless steel alloy.
SUPPORT WHERE YOU NEED IT
Inspired by TUUCI's marine roots, the premium teak parasol blends the authentic beauty of natural teak hardwood, classic elements of nautical design and durability of corrosion-proof materials.