Meet the Makers: Covering Seating One Stitch at a Time
We are thrilled to bring you another installment of one of our favorite features from Old Dominion Furniture Co.: Meet the Makers!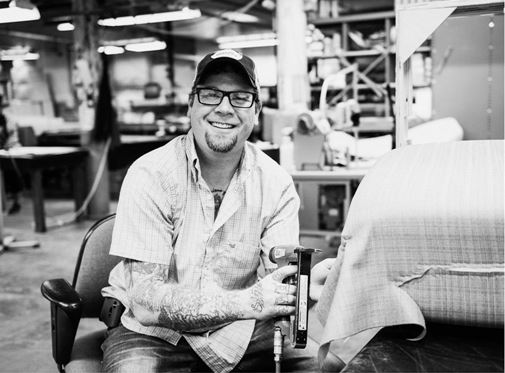 Today, we are meeting Rodney, who heads up the Upholstery Department at Old Dominion Furniture Co.. To him, upholstery is an art form: "It is just like making a picture. You have to connect seams and patterns to create a flow between each part of the booth and all booths in a series. No two pieces are the same!"
And Rodney would know. He began working for Old Dominion Furniture Co. seven years ago as a laborer and now leads the team that installs fabric, vinyl and leather on all seating. Though his background was in the wood industry, upholstery has become his passion. He calls himself a "dedicated perfectionist" and loves structure, so his job overseeing all upholstery department details suits him well.
The close-knit relationship among the department are an added bonus.
"It feels like family here," Rodney says. "We work as a team, and every day is an opportunity for us to learn something new."
So what does the upholstery team do? The upholstery team at Old Dominion Furniture is hands-on and responsible for figuring out yardage, fabricating custom patterns, building the underlying structure of all seats and backs, as well as meticulously sewing each covering. Additionally, they expertly craft and apply finishing details like upholstered buttons, welt cord and nailhead trim.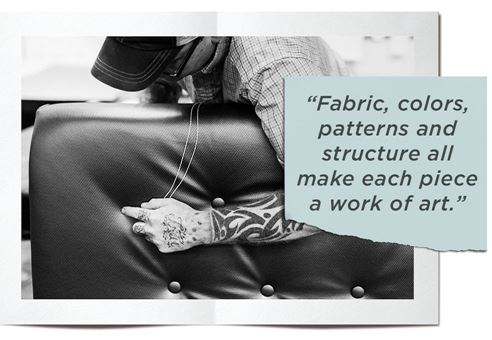 Finally, they ensure that each piece is steamed, wrinkle-free and looking flawless before leaving the floor!
For us it is so wonderful to learn more about who is behind the beautiful furniture from Old Dominion Furniture Co., so stay tuned as we share more "Meet the Makers" in the future.