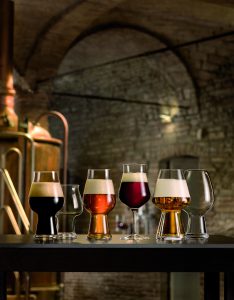 If you are anything like us, then it feels like 2020 is FLYING by! Soon we will be celebrating St. Patrick's Day with all manner of parades, festivals and of course – beer! The BIRRATEQUE™ collection from Luigi Bormioli – a Bauscher Hepp brand – can help you and your guests celebrate with style! 
Every type of beer has unique characteristics, and for this reason each specific type of beer should be served in the appropriate glass. This will allow all it's features to be emphasized. The shapes and dimensions of this new glassware collection are the results of studies, research, and tests:
• Glass shape and glass quality influence the color, aroma, and the taste of beer. The glass shape must match the type of beer that is poured into it.
• The right glass will bring forward the true flavors of the beer. (This is much the same for wine glasses).
• The internal volume of the glass must be greater than that of the beer poured into it in order to create an adequate aromatic chamber (head space).
Only in this way it will be possible to experience the true aromas of the beer.  On the contrary, if the glass is filled up to the rim the aromatic molecules of the beer will drift out and vanish in the surrounding environment and its flavor will be distorted.
The BIRRATEQUE™ collection from Luigi Bormioli uses unique shapes and dimensions to ensure the best possible presentation of color, aroma, and taste of beer, so whether you choose to toast with a pilsner or a cider this St. Patrick's Day, there is a glass for every type!
Éirinn go Brách
­
.