TUUCI Eclipse Cabana – Relaxation in Style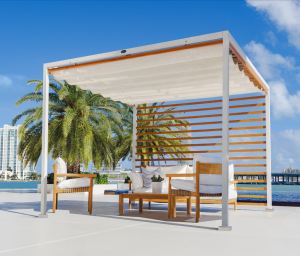 If you are anything like us, you are dreaming of warmer weather, and this week we are excited to showcase the TUUCI Eclipse Cabana! Available in a variety of  configurations the Eclipse Cabana creates a luxurious modular, outdoor open-air living room for relaxation in style.
Whether your vision is lounging by the pool or enjoying dinner with guests, the versatile TUUCI Eclipse Cabana can transform your landscape into an inviting shaded retreat.
TUUCI's Eclipse Cabana features a Retractable Roman Shade Roof, which adds old-world romance and stylish shade to any cabana. Made with beautiful, durable, stain-resistant and fade-resistant Textilene® mesh fabric for UV protection and light filtration, the shade opens and closes easily on stainless steel cables. Choose from any of these colors to create the perfect open-air ambiance for your setting!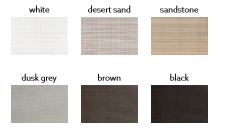 Owing to the modular design of the TUUCI Eclipse Cabana, the possibilities of personalizing the look are almost endless! Additionally, the modular design of the cabanas means that they are not considered "permanent structures". Therefore, they are not subject to building regulations – although we always recommend that you check with your local authorities first!
For the Eclipse Cabana, TUUCI offers a variety of modern and classic finishes to complement your outdoor space. Choose from one of the contemporary powder-coat options, or the state-of-the-art woodgrain Aluma-TEAK™ finish.
If you are worried about the outdoor conditions; don't be! TUUCI tests all of their umbrellas and shade structures to to withstand demanding commercial wind-force standards. Additionally, TUUCI products come standard with:
Corrosion-resistant aluminum frame construction
High performance marine-grade materials
Replaceable components for a lifetime of serviceability
Engineered for simplicity, the Eclipse Cabana is beautiful and built to last!!