Edlund Company's KSUV-18 sterilizer used creatively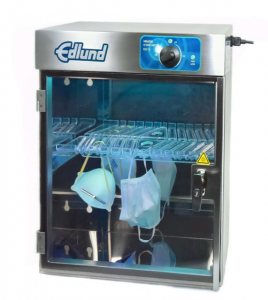 During this unprecedented time, all our factory partners are coming up with creative ways of helping businesses. The team at Edlund Company is no different! They are working diligently to continue to service customers and are in daily communication with them. It was this way that they recently learned about one company's creative use of the Edlund Company's KSUV-18 Knife Sterilizer.
Edlund Company received a call from the director of multiple Senior Living facilities, who purchased a number of the Edlund Company's KSUV-18 UV Knife Sterilizer to keep their knives safe. However, the facilities are now using the knife sterilizer to sterilize face masks for re-use, instead. To be clear, Edlund has never promoted this product for this purpose! However, independent lab testing proves that the design reduces over 99% of E-Coli bacteria in just over 3 minutes. Additionally, in nearly five years of sales, there has not been any complaints related to a failure to protect users' cutlery from contamination, when used according to our recommended procedures.
As the only U.S. supplier of this type of product, Edlund has recorded sales to schools, hospitals, and cruise ships. With many forms of bacteria potentially present in all types of food service operations, it stands to reason that the KSUV-18 might also be successful in sanitizing and protecting more than just knives and related small equipment.
Additionally, Edlund Company is the ONLY company manufacturing this unique product in our factory in Vermont, U.S.A.!
Please contact us to obtain more information about the use of UV-C light as a method of sanitizing! We are here to help and so are our factory partners!