Pantone Color of the Year in your operation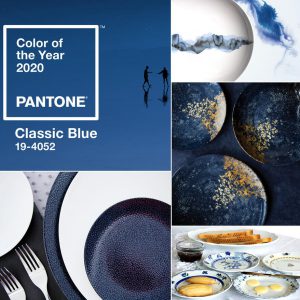 Each year, as it has for the past 20 years, the Pantone Color Institute selects it's Color of The Year.
This year the Pantone Color of the Year is: Classic Blue, which is a cool shade reminiscent of the wide-open twilight sky.
The Pantone Color Institute is a 20-person team. The team spends months each year studying recurring patterns or colors, and measuring the cultural zeitgeist. They then select the color they think best captures the current moment and mood for the upcoming year. On-trend business and industries will incorporate the year's shade into their interior design.
If you're looking to mix this timeless shade into your dining room, consider some of the latest decors from Bauscher or Tafelstern. You could also consider the Nadia tumblers and bowls from Vidivi to add a pop of color to your table scape!