The New Wave of Creative Coffee Cocktails
It's national coffee day and today, we are sharing some interesting and exciting information on creative coffee cocktails, courtesy of our factory partners Hamilton Beach Commercial.
The espresso martini was born in a scene right out of Ab Fab. In 1983, an actress or model (depending on who's telling the story) walked into London's Soho Brasserie and asked for a drink that would "wake me up and [mess] me up." Bartender Dick Bradsell crafted a high-octane cocktail that would become legendary: espresso, vodka, Tia Maria, Kahlua and sugar syrup. The drink became a symbol of '90s bar culture, growing sweeter and stickier until it fell out of favor. Now, bartenders are getting excited about coffee cocktails once more.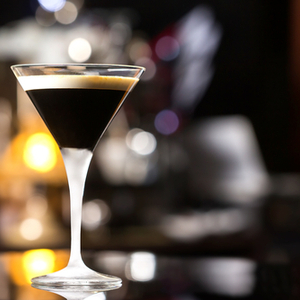 "As we continue the third generation coffee movement in the U.S., I expect to see a celebration of specialty coffee in cocktail bars. … Breathing new life to old caffeinated cocktails is an easy pivot that the large majority of Americans can get excited about," Stephen Kurpinksy, president of the United States Bartenders Guild San Diego Chapter, tells VinePair. Here's a look at some of the exciting trends we're seeing in coffee specialty drinks.
Cold Brew Coffee + Vodka Drinks
It's so simple… and so strong. DBL BLK, a bottled version in Colorado, was born out of a very-Denver dilemma: "We continued to complain about the same two problems: one, we love to ski and hike but don't enjoy beers in the morning, and two, the brunch drink scene needed some disruption," says DBL BLK co-founder Matt Wickiser. Their solution: cold brew coffee and craft vodka, canned.
Larger companies have gotten in on the canned hard-coffee trend by mixing cold brew with agave wine (Café Agave) or malt liquor (La Colombe Hard Cold Brew Coffee). But neither sounds as delightful as a real cocktail made with intensely flavorful cold brew coffee.
Coffee + Citrus Drinks 
Coffee and citrus are natural companions. That's why in Italy, espresso is often served with a slim twist of lemon. You'll find this same refreshing combination in coffee cocktails, such as the Turkish Coffee Sour (coffee, spiced rum and lemon juice) or the Alive and Kicking (coffee, fernet, amaro and Orangerie). Or, there's the coffee Negroni. "It's nothing but caffeine and alcohol, and maybe a bit of orange peel, which you could also eat if you're feeling a touch of scurvy. There's nothing in it to drag you down."
Hamilton Beach Commercial citrus juicers are the gold standard in the restaurant industry, from the classic manual Model 932 to the durable Hamilton Beach Commercial Electric Citrus Juicer.
Coffee + Brandy Drinks
Adios, Irish coffee. Hola, carajillo. This Spanish cocktail made with hot coffee is simply delicious — and fortifying. The version popular in Mexico is made with Licor 43, a liquor flavored with vanilla and 42 other herbs and spices. First, pour Licor 43 over ice cubes; then, add hot espresso and stir.
There are two ways to order carajillo in Mexico City, Punch says. Puesto means on the rocks. If you ask for it shakeado—like the Italian shakerato, derived from the English word "shaken"—the bartender will intervene, whipping the drink to a healthy froth in a cocktail shaker, then pouring over ice into a lowball glass."
Coffee + Tonic Drinks
As customers are demanding refreshing, non-alcoholic drinks, the espresso tonic is having a comeback!  Koppi, a roaster in Helsingborg, Sweden, is credited with inventing the Kaffe Tonic. It is a simple combination of espresso and tonic water, poured over ice. Anna Lunell, a founder of Koppi, shares the secrets to making it great:
Lots of ice in a large glass
High-quality tonic water, garnished with citrus
A fruity espresso that complements the bitter tonic
Coffee + Blender Drinks
Speaking of creative coffee cocktails – do you remember the Frozen Mudslide? It's hard to say no to ice cream, Kahlua, Bailey's and vodka. But it's more a dessert than a drink, and there are many other creative ways to make a blended coffee cocktail. Boozy frozen espresso is creamy but much less sweet. From Bacardi, there's the Coffee Colada: pina colada mix, rum and cold coffee, with an orange garnish.
What about nonalcoholic blended coffee drinks? Polish barista Agnieszka Rojewska won the 2018 World Barista Championship with an innovative mixture of passionfruit syrup, rooibos cold brew infusion, washed milk and espresso, all combined with a Hamilton Beach Commercial blender. "It aerated it a lot so the texture was like marshmallow, almost," Rojewska says. "Blending espresso does magic for texture." Get the recipe for her signature drink.
We hope you have enjoyed this article on creative coffee cocktails. You can discover all Hamilton Beach Commercial's equipment solutions for coffee shops and bars/cafés here.