Fudgy Brownies to cheer you up!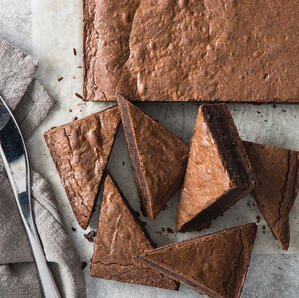 Amid all the things that are going on in the world right now, we thought we would take some time to cheer you up a little, and share the recipe for these delicious fudgy brownies!
In this recipe, dark cocoa powder and bittersweet chocolate truly elevates an old favorite, and with a deep, bittersweet taste, they're the perfect ending to a meal!
For best results, we recommend using the Hamilton Beach CPM800 stand mixer!
Fudgy Brownies (Yields 30 brownies)
Ingredients:
2 cups (250 g)       all-purpose flour
½ cup  (43 g)         dark cocoa powder
2 cup (454 g)         unsalted butter, cubed
12 oz (340 g)         bittersweet chocolate, chopped
1 cup (200 g)         granulated sugar
1 cup (220 g)         packed light brown sugar
4 large (200 g)       eggs
2 tsp (8 ml)            vanilla extract
½ tsp (3 g)             salt
Instructions:
1. Preheat the oven to 350°F (180°C) with a rack set in the middle position. Lightly spray a 13-by-9-inch (33-by-23-centimeter) baking pan with cooking spray and line with parchment paper, extending the edges outside the pan.
2. In a medium bowl, stir together flour and cocoa powder. Set aside.
3. In a double boiler over medium heat, heat butter and chocolate until melted, stirring occasionally.
4. In the mixing bowl of the 
CPM800 stand mixer
 fitted with the flat beater attachment and the splash guard installed, add sugars, eggs, vanilla extract, and salt. Beat on medium speed for 1 minute.
5. Add the chocolate mixture. Continue beating until blended, about 1 minute.
6. Reduce the mixer speed to low and add the flour mixture. Slowly increase the mixer speed to medium and beat until blended.
7. Pour the batter into the prepared pan and spread evenly. Bake until the top is shiny and a cake tester comes out with a few crumbs attached, 50-55 minutes. Let the brownies cool in the pan on a wire rack.
8. Using the edges of the parchment paper, lift the brownies out of the pan and place on a cutting board. Cut into wedges or squares to serve.
Original recipe courtesy of Hamilton Beach. To see more, you can click here!