Does your bar blender gather dust from November through April, only to roar back to life when it's margarita season? This winter, put the blender back to work by mixing some frozen cocktails that will invigorate your cocktail program. Frozen Cocktails for the Winter Months may sound like an oxymoron. BUT! There is a secret to selling frozen drinks in winter. And it is simple – you just need to channel your customers' seasonal moods. In the article below originally posted by our factory partners Hamilton Beach Commercial, we will tell you how.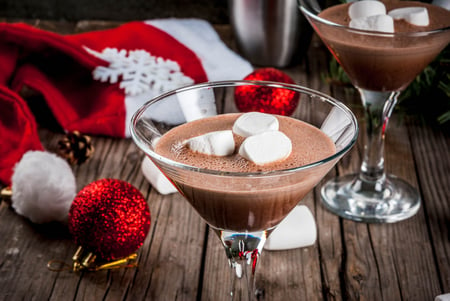 But first, remember the basics of successful drink blending: Always put liquid ingredients in the jar first. Follow by adding solid ingredients such as fruit and ice. And for a consistent blend every time, invest in a powerful, commercial-quality bar blender.
Festive frozen cocktails for December
In December, everyone's in the holiday mood. Flavors of the season include peppermint, chocolate, orange, cinnamon, allspice, nutmeg and ginger. And while most people associates the holiday month with warm drinks: hot toddies, hot buttered rum and hot chocolate, novelty always sells — so why not put an icy spin on traditional flavors?
Virtuous frozen cocktails for January
In January, we're all nursing an overindulgence hangover. No more chocolate. No more eggnog. And for the love of butter, no more cookies. At the same time, we're not ready to trade our cocktails for swiss-chard smoothies just yet. Offer a frozen-cocktail menu that speaks to guests' desire to cleanse their palates and start fresh. Or, since it's Drynuary for some, why not serve refreshing mocktails?
Tropical frozen cocktails for February
In February, we're all feeling envious. Everyone is Instagramming their sunny getaways to Cabo or Cancun (or at least, that's how it's been in years past! Here's hoping for travel to become the norm again – really soon!!!) Since we can't get away due to the current world situation, we can at least enjoy a little taste of the tropics!
Irish frozen cocktails for March
With spring right around the corner, your guests are feeling optimistic. And Irish. Very Irish. But blended cocktails don't need to be green to be perfect for the season.
And voila — it's spring again. Time to start blending margaritas…
Original post: So Cold They're Hot: Eight Frozen Cocktails for the Winter Months