How to Make the Most of a Ghost Kitchen
With the help of Hamilton Beach Commerical, today we are finding out how to make the most of a ghost kitchen.
Is a restaurant still a restaurant without tables, servers or diners? Well, it definitely is now!
More than half of U.S. operators have turned to ghost kitchens for some or all of their delivery orders, research by Technomic and the National Restaurant Association reveals. Before the pandemic, just 15% used a ghost kitchen — that is, a commercial kitchen that only makes food for delivery and/or takeout.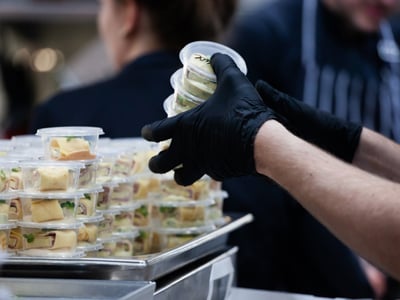 A ghost kitchen (or dark kitchen, or virtual kitchen) can boost a burgeoning delivery business, increase profit margins, cut staffing costs and help see restaurants through a slump in in-person dining. But the prospect of paying a lot for a brand-new facility may give restaurateurs pause.
Here's the good news: You don't have to start from scratch! Here are five ways to use the ghost-kitchen model that require minimal investment up front.
1. Using an existing restaurant kitchen as a ghost kitchen for a new brand 
Italian fast-casual chain Fazoli's tested a delivery-only wing concept, Wingville, in early 2020. It used its own kitchens to launch the new online brand while keeping it separate from Fazoli's core menu. While wings may seem a far cry from baked ziti and meatballs, they proved popular — and profitable. The pilot program boosted sales by nearly 11%, Restaurant Business reports. Seeing this success, Fazoli's decided to bring the wings in-house at all locations, for dine-in, takeout and delivery.
The appeal of wings is that they're simple to make and require little upfront investment. Fazoli's had to add fryers to all of its kitchens, but saw its ROI realized in about four months. Not only that, but the new fryers are allowing the company to add new menu items.
Thinking about doing something similar? Consider how a new piece of equipment can help you launch a new line or boost take-out tickets. Examples:
2. Joining forces with other brands in a single ghost kitchen 
Here's a fresh approach: One kitchen, many menus. BBQ Holdings, which owns four brands, was concerned about underworked staff and falling revenue. So the kitchens of its Granite City locations, in addition to making their sliders and flatbreads, started preparing Famous Dave's barbecue for delivery only. Then, nine Famous Dave's locations began serving as ghost kitchens for Hayward's Hen House, a delivery-only chicken concept.
Cross-training staff and purchasing equipment required an initial investment of $50,000 per location, Jeff Crivello, BBQ Holdings' chief executive, told The Washington Post: "Without having to pay for additional rent, utilities or staff…he expects each ghost kitchen to produce $6,000 to $12,000 in additional sales per week." Margins are much higher too, compared to traditional sit-down dining.
It's not only multi-brand companies that are trying this approach. Franklin Junction is a new digital platform that "uses a data-driven demand-matching process that allows restaurants to produce and sell popular menu items from a carefully curated roster of established restaurant brands which are generally not yet available in the market area of the host facilities," according to the company. With this model, a restaurant could sell Wow Bao Asian Buns and Fuzzy's Tacos (two participating brands) in addition to its own menu items, increasing revenue without cutting into market share.
3. Making the move to a co-working or mobile kitchen 
The concept of a shared commercial kitchen isn't new, but the popularity of these places has gotten a rocket-fuel boost from the increased demand for delivery. One prominent example is PREP in Atlanta, a massive culinary campus with facilities for bakers, caterers, food truck operators, franchises and entrepreneurs. PREP provides shared and private kitchen spaces as well as services like procurement, marketing, licensing and mentoring.
4. Letting another ghost kitchen capitalize on your concept 
Reef Technology turns the ghost-kitchen model on its head. The company installs mobile kitchens, "transforming these pieces of underutilized urban real estate, aka parking lots, into last-block neighborhood hubs providing essential services," says Alan Philips, the company's chief creative officer. Reef then enters into a partnership with restaurant brands whereby Reef's kitchen and staff make branded menu items for delivery. Each kitchen may turn out food from multiple brands. Reef keeps the revenue and pays the restaurants a royalty percentage every month.
5. Running micro-branded concepts from a restaurant kitchen 
In Richmond, Virginia, where Hamilton Beach Commercial is based, one fine-dining superstar is Longoven. (Its chef, Andrew Manning, helped us perfect the PrimaVac line of vacuum chamber sealers; get his best tips here.) This much-lauded restaurant got its start as a pop-up, and during the pandemic has proved its versatility by expanding into the lunchtime daypart. It opened Fitzroy & Herrera Bakery, a window-service bakery serving seasonal pastries, baked goods and lunch. (Check out the delectable Instagram feed!)