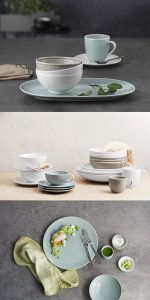 Today, we introduce you to a brand new collection from BauscherHepp – Scope. This collection may be familiar to you, as BauscherHepp featured it in their  National Restaurant Association Show Overview, which we shared with you a few weeks ago. But today, we are sharing just a little more information about Scope's story!
Scope is an all new collection from BauscherHepp with a fresh silhouette. Additionally, the embossment draws inspiration from one of Bauscher's Noble China collections: Purity Finest Loom. Made from German hard porcelain, it pairs perfectly with Bauscher's Options collection. The collection features soft pastel shades of white, taupe, and delicate blue-green, which creates the perfect platform for chefs to experiment with new food trends in their own style. Further, the Scope collections offers an interplay of embossed and smooth pieces for a dazzling, modern rustic aesthetic
You can see more of Scope, and all the new items in BauscherHepp's monthly Novelties Guide.