The Breeze Collection by emuamericas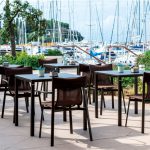 The Breeze Collection by emuamericas has JUST arrived from Italy! Designed by Chiaramonte-Marin, this new collection, which is our product spotlight for this week, features  a side chair as well as an armchair that are both stackable – up to 8 high!
The aluminum frame and the replaceable Textilene fabric seat/back of The Breeze Collection means the chairs have a lightweight design that is extremely weather resistant and would be perfect in any outdoor environment.
Choice materials and a design focused on comfort and functionality come together in these versatile high-end chairs crafted to withstand the test of time.
Contact us to learn more about The Breeze Collection or other great collections from emuamericas!