New Hammered Finish Cutlery Collection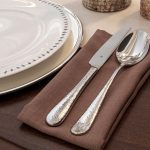 By now you're familiar with Bauscher Hepp's different cutlery surface options, from the matte texture of pearl to the rustic weathering of stonewash and more. Now WMF is introducing for the first time a hammered finish collection. Delicately worked accents give each piece of cutlery a distinct look, without disrupting the balanced lines of the traditional rounded handles.
The distinct hammered look of the handles gracefully feathers into the polished stainless steel of the blade, fork, or spoon of each piece. One of our favorite parts about this collection is how both sides of the cutlery feature the hammered finish! It's those sorts of small details that show the care put into each of WMF's pieces.
For more new items, be sure to look at Bausher Hepp's monthly Novelties Guide.